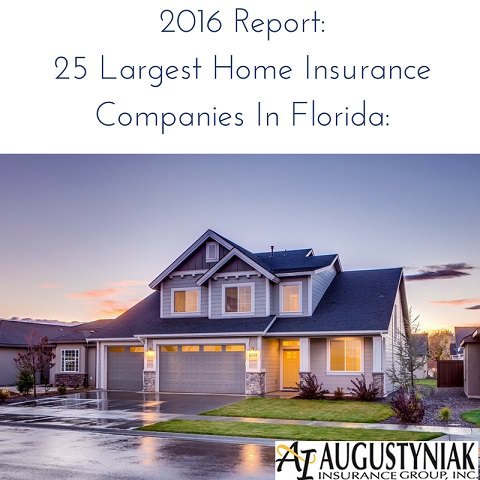 Florida Homeowners Insurance Companies List
Major name brand companies like Nationwide and State Farm are missing from the list of the 25 largest homeowners insurance carriers. During 2004-2005, Hurricanes Charley, Ivan, Frances, and Jeane damaged large parts of Florida. Hurricane Katrina followed in 2006. Because of the damage Florida sustained during these hurricane seasons, large national insurance companies stopped writing homes for residents of the Sunshine State. State Farm, Nationwide, Allstate, Hartford, Travelers, and many others also non-renewed clients homes to manage how much damage they might be responsible for if another hurricane hit our state..
Since 2010, regional and Florida-only insurance companies have grown exponentially. They are now the largest insurers offering home, condo, landlord, and renters insurance in our state. Tower Hill started offering insurance in the 1970s, and is one of the oldest insurers on this list. However, most of the companies on this list are less than 25 years old.
The financial stability of your homeowners insurance company is extremely important when you live in a hurricane-prone state like Florida. The most common rating organization for Florida-based homeowners is Demotech. They assign a financial stability rating to each of these companies.
Some companies have earned an AM Best rating as well. One thing to remember is the size of company does not always relate to the quality. Citizens (the state run insurance company of last resort) remains the second largest. Universal Property and Casualty covers homes in Broward, Palm Beach, and Miami-Dade counties. a place where many of the other companies decline to offer policies (other than Citizens).
Here's a List of Florida Homeowners Insurance Companies starting with the most number of in-force homeowners insurance policies as of Dec 31,2016.

The 25 Largest Florida Homeowners Insurance Companies:
| Largest | Insurance Company | Policies in Force |
| --- | --- | --- |
| 1 | Universal Property and Casualty Insurance Company | 577,263 |
| 2 | Citizens Property Insurance Corporation | 466,506 |
| 3 | Security First Insurance Company | 334,335 |
| 4 | Federated National Insurance Company | 272,335 |
| 5 | Heritage Property & Casualty Insurance Company | 241,822 |
| 6 | American Integrity Insurance Company of Florida | 236.796 |
| 7 | United Property & Casualty Insurance Company | 187,412 |
| 8 | St Johns Insurance Company | 166,396 |
| 9 | Homeowners Choice Property& Casualty Insurance | 149,793 |
| 10 | Tower Hill Prime (a Tower Hill Insurance Company) | 148,377 |
| 11 | People's Trust Insurance | 146,106 |
| 12 | ASI Preferred (an ASI Company) | 125,537 |
| 13 | United Services Automobile Association (USAA) | 124,157 |
| 14 | Florida Peninsula Insurance Company | 118,771 |
| 15 | First Protective Insurance Company | 104,138 |
| 16 | Castle Key Indemnity Company | 99,943 |
| 17 | Florida Family Insurance Company | 98,089 |
| 18 | American Bankers insurance Company | 94,374 |
| 19 | Ark Royal (an ASI Company- related to #12 also) | 94,374 |
| 20 | Tower Hill Signature Insurance Company | 85,257 |
| 21 | Olympus Insurance Company | 82,320 |
| 22 | Safe Harbor Insurance Company | 78,337 |
| 23 | Castle Key Insurance Company | 73,011 |
| 24 | Safepoint Insurance Company | 70,675 |
| 25 | Cypress Property & Casualty Insurance Company | 68,723 |
Data as of Dec 31, 2016. Source: Florida Office of Insurance Regulation
Next Article: