Local businessman to be Inducted Into the Indiana Football Hall of Fame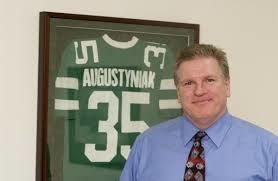 Mike Augustyniak, President of Augustyniak Insurance Group in Jacksonville, Florida and former Purdue and NY Jets football player is due to be inducted into the Indiana Football Hall of Fame. The induction will take place on October 6th during a football game at Leo High School in Fort Wayne, Indiana.
Mike began his football career at an early age continuing with Purdue as a walk-on in 1977. In college, he rushed for 308 yards as a Junior and 295 yards as a Senior. After spending training camp with the New Orleans Saints in 1980, Augustyniak was released from the team. Without Mike knowing, his father contacted an agent to see if there was any interest in him as a player. He tried out for the New York Jets as a free agent walk-on in 1981 and made the team. In the 3rd game of the 1981 season, head coach Walt Michaels grabbed Mike in the tunnel before the game and told him he was starting. He then became the starting fullback with the Jets for the rest of his career. After a near death experience during a New England Patriots game Mike came back and continued for one more season. A knee injury ended Mike's career in 1985.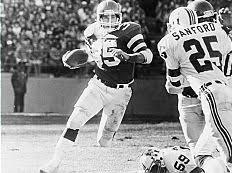 Augustyniak was a crowd favorite while he played for the Jets. Occasionally, the chanting of "Augie" could be heard throughout the stadium. Long time friend and Jets teammate, Bruce Harper, says "Our friendship extended beyond the playing field. We werefriends not because he was a great player but because of who he is: Augie, the person. Well-deserved."